Skip to content
Fogo Island to Battle Harbour, Labrador
Includes:
One night accommodation + meals in historic Battle Harbour
Return helicopter flight from Fogo Island to Battle Harbour
Two days of sea, sky, and land adventures
Length:
Two days / One night
Price:
Twin (per guest): $12,935

(HST included)
Get away to a place that time forgot.
There's off the beaten path and then there's this place. Glimpse a moment in history while visiting the National Historic District and island getaway of Battle Harbour, Labrador.
Transported by helicopter directly from the Fogo Island Inn, you'll soar above scenic coastline, and perhaps, catch a glimpse of whales and icebergs as you travel to this remote part of the world. Like hopping aboard a time machine, you'll soon see the notable absence of power lines, cell towers, paved roads, or even cars.
Normally, the journey to this 'nine-miles-from-nowhere' island is a multi-day endeavor involving roads and ferries but flying in maximizes your time to explore this rare, living museum.
Without the barrage of modern distractions (but with a host of other luxurious amenities), guests find the time and space needed for connection and reawakening at one of the most restorative, off-the-grid retreats in North America.
The accommodations are lovingly-restored 200-year-old buildings, alongside newer construction, with cozy hearths and sun-drenched rooms.
Thanks to a complete lack of streetlights, you'll be treated to an undisturbed night sky filled with bright, gigantic stars and on occasion, the northern lights.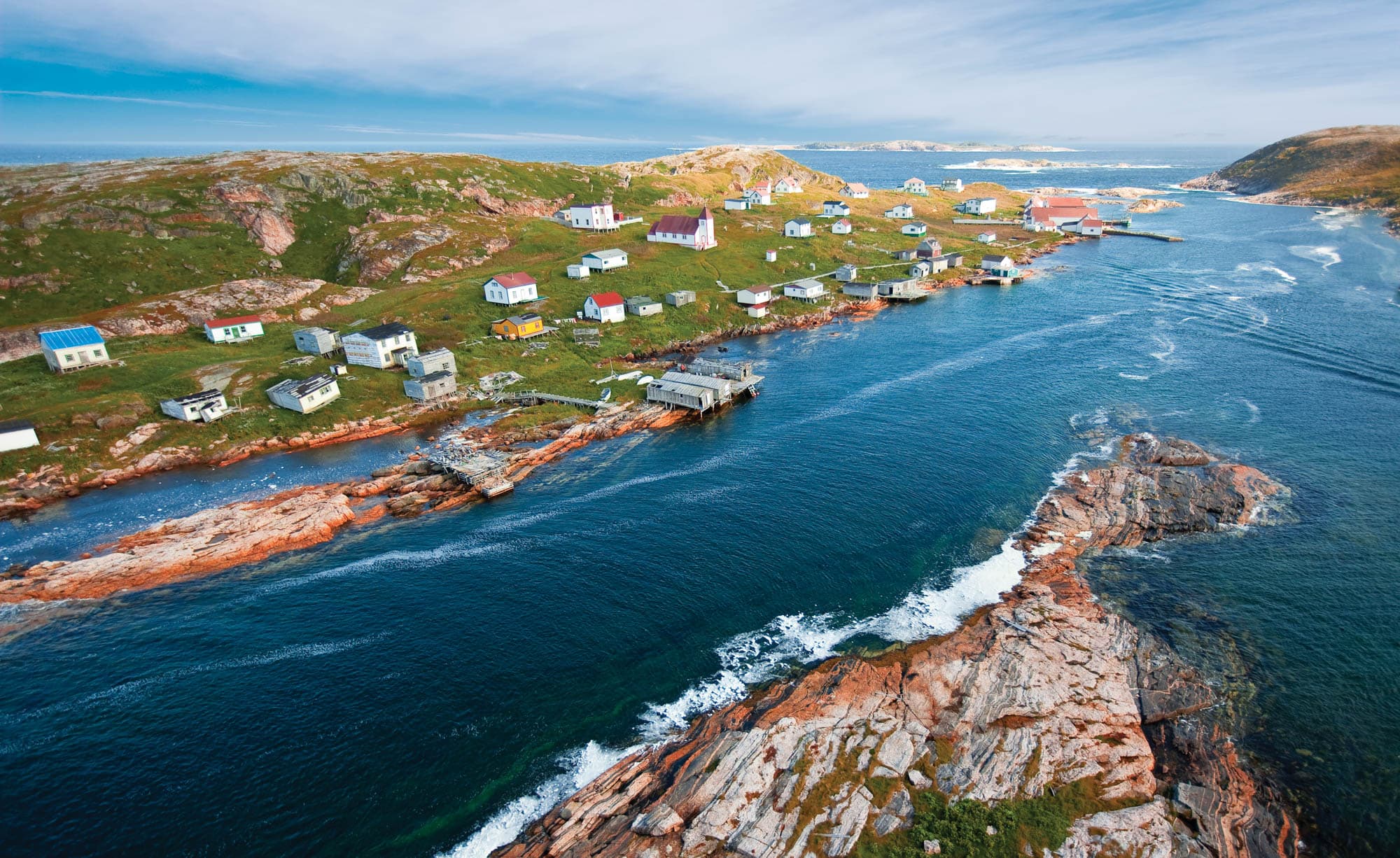 Your adventures connect you with local guides whose ancestors once inhabited this former saltfish capital of Labrador, and are keen to share their stories and continue its legacy.
Guests can enjoy time out on the water during the Newfoundland and Labrador Recreational Ground Fishery. Our experimental fishing license allows everyone in your party to catch two codfish, which we will gladly fillet and freeze for the journey home.
Battle Harbour also provides the opportunity to reach the most easterly point of continental North America. Cape St. Charles is the furthest east you can walk on the continent without getting your feet wet. A Boston Whaler will take you to the resettled community of Cape St. Charles Cove to enjoy a moderate 2.5-kilometer (1.5-mile) hike.
Cap the day with a gourmet meal and evening bar and beverage service at The Loft while enjoying one of the famous sunsets from The Flatform. Then fall asleep under a handmade quilt in a heritage building, without the sound of a car or glare of artificial light, for a truly magical evening to remember.
While there is no cell service, paved streets, cars or traffic jams, there is a landline, Wi-Fi hotspot, craft shop and artisan workshop to complement the vistas overlooking the world famous Iceberg Alley.
All of our itineraries are fully customizable to suit personal preferences, travel requirements, and budgets. Have a special request? Please get in touch.
COVID-19 Awareness
Thanks to a robust public health response, and some of the highest vaccination rates in Canada, Newfoundland and Labrador is one of the safest destinations in the world. Our remote location, small population and large land mass ensures there is plenty of personal space and outdoor space for everyone.