Skip to content
The Best of Newfoundland and Labrador
East & West
Length:
Nine days / Eight nights
Price:
Twin (per guest): $29,975
(HST included)
East or West
Length:
Seven days / Six nights
Price:
Twin (per guest): $20,209
(HST included)
Includes:
Six nights' accommodation + meals
Seven days of sea, sky, and land adventures
Airport transfers + private helicopter flights between St. John's – Fogo Island Inn – Gros Morne National Park – Deer Lake Airport
7-Day Adventure in Newfoundland and Labrador by Water + Air
Guests agree. There's simply no other way to experience all the beauty and splendor that our diverse island has to offer than through this epic, seven-day air and water adventure.
Enjoy the comfort of a private helicopter to transport you and your guests to and from unique locations in a safe and ecologically friendly manner. Not only does this maximize your vacation time, but it offers a bird's eye view of unforgettable seascapes without leaving a trace.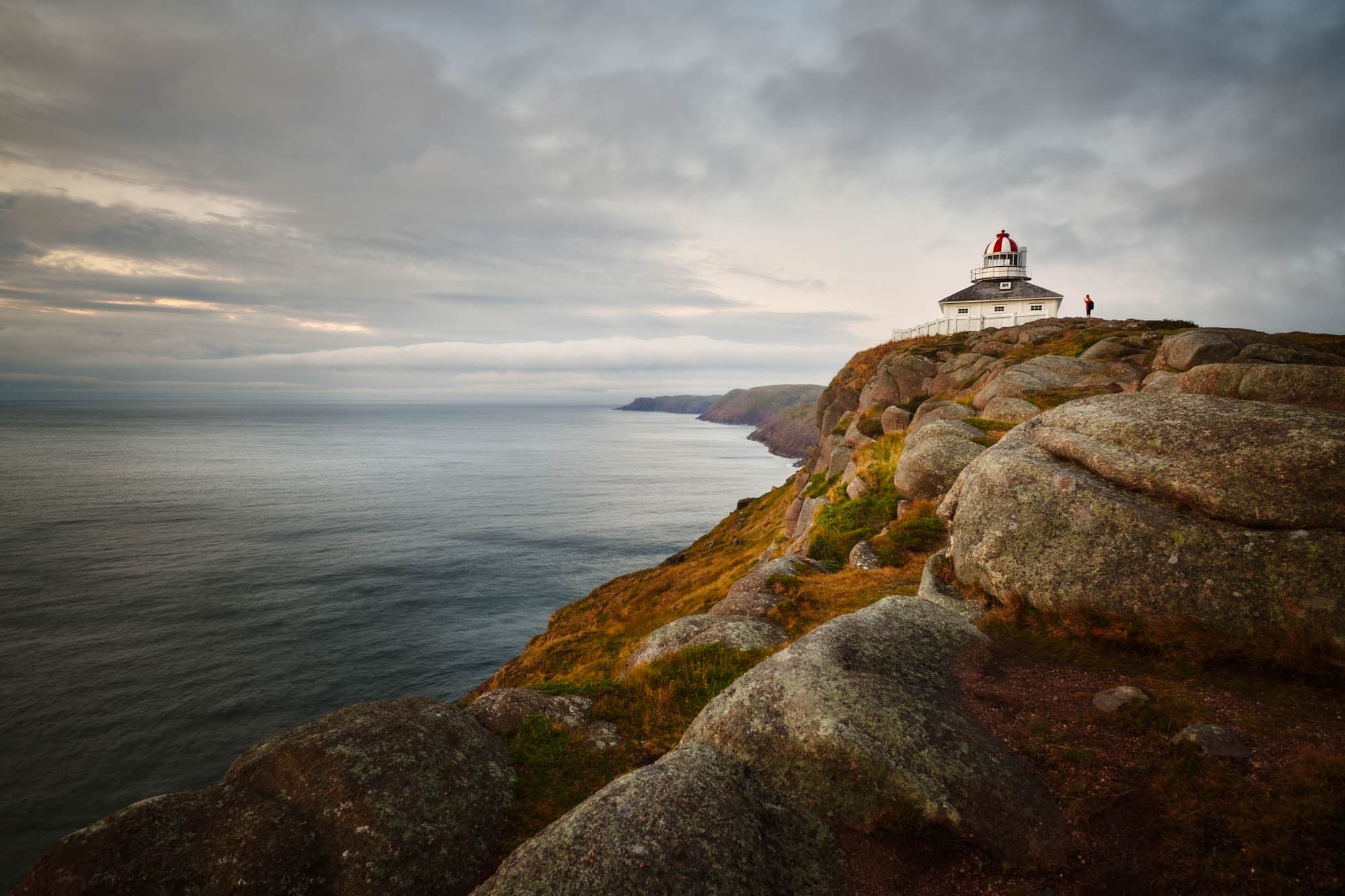 The airborne half of your journey offers a glimpse of the alluring wilds around the capital city of St. John's. Once you're on the ground, the true beauty and unique culture of this place will unfold before you with unexpected charm and splendor.
While you enjoy the thrilling helicopter rides our expert, local guides will bring you up to speed on all things Newfoundland with quirky facts, folklore, and history.

Your journey begins the moment you land in St. John's, an exceptional seaside city. A private car will pick you up at St. John's International Airport and whisk you to the colourful downtown core, just a short drive away.
The first stop is a quick luggage drop-off at your luxurious boutique hotel, a property that blends old world charm with new world comfort, deluxe amenities, and first-rate personalized service.
Next up is a visit to Signal Hill which overlooks the harbour city and offers exceptional ocean views. Here, you'll enjoy a stroll around the iconic Cabot Tower and explore the hilly trails leading to Quidi Vidi, a historic fishing village on the outskirts of St. John's. It offers a nice stretch after a long flight and plenty of fresh, ocean air.

Accompanied by a seasoned, local guide, your driver will take the old coastal roads that lead to Cape Spear, the most easterly point in North America. Here you can stand on the very edge of the continent and overlook the expansive ocean.
Enjoy a leisurely coastal hike followed by an interior tour of one of the world's most famous lighthouses. From there, you'll board the helicopter and head to the Witless Bay Ecological Reserve, experiencing colourful fishing villages, whales, and maybe even icebergs along the way.
Once in the heart of the Irish Loop, there are several options to consider, including a private small boat tour around the islands in the Witless Bay Ecological Reserve, home to hundreds of thousands of nesting, feeding, and soaring seabirds.
A gourmet picnic lunch from Ferryland Lighthouse Picnics will be served to your blanket set atop the cliffs overlooking the sea. Another special place to enjoy the acrobatic displays of whales and dolphins. Or you can spend your second day on a coastal kayaking and hiking adventure, where you'll paddle alongside whales, inside caves, and under waterfalls. Guests choosing this option can look forward to gourmet lunch on a deserted beach and an afternoon enjoying some of the most spectacular coastal hiking in the world.
The evening will be spent back in St. John's, where, if the mood strikes, you can take in lively Celtic music in a variety of welcoming Irish pubs, for a rollicking Newfoundland time that will dance in your heart for years to come.

Enjoy an unforgettable morning helicopter ride along the northeast coast on the way to Fogo Island. Whales and icebergs are a common sight along this remote route.
The afternoon includes local entertainment with a walk around Joe Batt's Arm, a scenic fishing village. Here you can meander along many coastal trails offering rugged views.
Then you can make your way to a classic Newfoundland kitchen party, complete with local fiddlers playing traditional jigs and reels. It's a quintessential Newfoundland experience that offers a glimpse into life on the island before confederation with Canada.
After an epic day of scenic touring, island hopping, foot-stomping music, guests will enjoy a relaxing night at the renowned Fogo Island Inn, named one of the top hotels in the world by the New York Times.

As a guest of the Fogo Island Inn, you can choose from a myriad of expertly curated activities, including active adventures, culture connections, nature and wildlife, cuisine, community immersion and many more.
End the day with a gourmet dinner in the inn's elegant dining room overlooking the sea. Based on locally sourced ingredients such as hearty berries, edible plants, root vegetables, North Atlantic seafood, and sumptuous wild game, every dish reflects one of Fogo's seven seasons and tells a story about the unique culture and heritage of the island.

Take a morning flight by helicopter from Fogo Island into the heart of Gros Morne National Park. By car and ferry, the journey would take more than eight hours. But you'll be there in less than 2 hours, which will feel like no time at all as you soak in the spectacular aerial views of rugged coastline, inland fjords, and the Long Range Mountains.
Upon arrival, guests will be hosted by Discover Mekapisk, Gros Morne's first Indigenous tour. Journey back in time to experience Gros Morne National Park through the eyes of her first inhabitants, while in search of marine life and picture-perfect views.
This exclusive adventure will be led by a local Indigenous guide. Guests will be transported to an isolated cove in Bonne Bay aboard a sea-going Zodiac to explore Indigenous culture and history of the area.
To understand how the First Peoples lived, you will be guided to view the land from their perspective, to look to the sea with their needs in mind, and to hold the raw materials of their tools in your hands.
Surround yourself with nature during a short walk on a game trail to explore the plants and animals that sustained early human life. Take in the views from a headland, and search for the marine life that was so important to First Peoples in this area.
Try your hand at making fire using stone age tools, cooking Bannock, and roasting capelin over an open fire. Then gather round for tales of the triumphs and tragedies of our ancestors.
Savour a gourmet picnic lunch at a remote beach and epic views of the Tablelands, a UNESCO World Heritage Site, for an unforgettable experience.
Following lunch, you'll cruise by boat to the historic waterfront town of Woody Point. Visit the Parks Canada Discovery Centre to get stunning views of the park's south side and beyond before you brush up your knowledge on the area's geological anomalies.
Put that knowledge to use during a 4km guided walk along the Tablelands trail. Then venture into Winterhouse Brook Canyon to get panoramic views of the peridotite slopes, half a billion years in the making.
Finish the adventure with a visit to the traditional fishing village of Trout River along the coast of the Gulf of St. Lawrence. Here you can sample some seafood hors d'oeuvres at the award-winning Seaside Restaurant, paired with a pint of Quidi Vidi Brewery's famous Iceberg beer.
Guests can look forward to an incredible night's rest at Neddies Harbour Inn, offering luxurious accommodations and ample peace and quiet set against the backdrop of a majestic national park.
The following day, guests can enjoy a revitalizing half-day hike up the fabled Gros Morne Mountain before hopping aboard the helicopter to head back to Fogo Island or travel directly to either Gander or Deer Lake international airports to catch a return flight home.

Embark on a half day hike up the fabled Gros Morne Mountain to work up an appetite for freshly prepared picnic lunch made with seasonal, local ingredients. Then get ready for a final gourmet dinner at a local eatery, followed by an evening of unforgettable entertainment with Anchors Aweigh. This traditional Newfoundland musical group is a blend of fun, comedy, and nostalgia. You'll be tapping your feet and clapping your hands all evening long, creating another lasting memory to cap off your epic Gros Morne adventure.

Take one final trip via helicopter over the scenic interior landscape of Newfoundland to transport you to Deer Lake International Airport for your return flight home.
All of our itineraries are fully customizable to suit personal preferences, travel requirements, and budgets. Have a special request? Please get in touch.
COVID-19 Awareness
Thanks to a robust public health response, and some of the highest vaccination rates in Canada, Newfoundland and Labrador is one of the safest destinations in the world. Our remote location, small population and large land mass ensures there is plenty of personal space and outdoor space for everyone.